Every one of us "doctors" when he/she first enter the hospital as an junior resident, intern or medical student, face difficulty in writing a  proper progress note at the first time. Sometimes, our progress note makes our consultant or senior resident upset, and we got a lot of bad comments on it. Sometime you can't find someone to help you how to write it.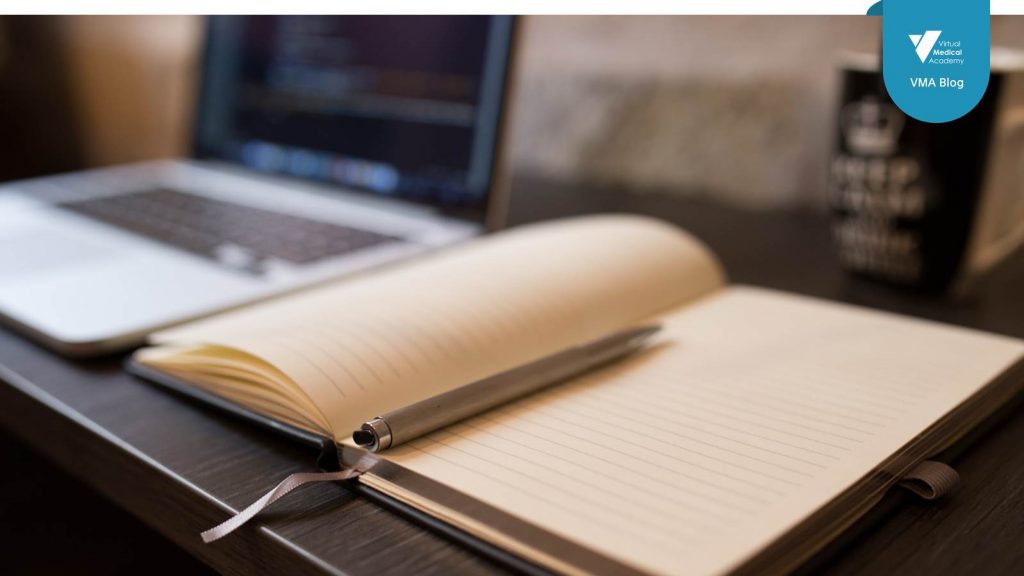 In this paper, I will try to give you some valuable points in writing the progress note and samples of it, from my experience and what I learned from previous colleagues. First, I will start by discussing the importance of progress note. Second, how to write it and at the end, I will give samples for it.
Importance of progress note:
To give daily updates on your patients: illnesses, diagnosis, and treatment.

A way of communication to colleagues and the healthcare team collaborating in treating your patient.  
Remember that the progress note is not an assignment to show your medical knowledge to get a good grade.
Writing the PROGRESS NOTE:
There are basics in writing any medical documentation:
Date and time all notes.

Include a brief title for example

"

General pediatric progress note/physical therapy progress note

."

Avoid abbreviations.

Don't  cut and paste from previous notes without editing and updating.

Unethical and Unprofessional to use another doctor's observations or assessments.

When you sign the notes, be sure to print your name legibly and include your pager number
Patient identification (name, age, file number)

Diagnosis/ working diagnosis/ problem list

Medication

You will use one of two styles in writing the note "SOAP" or "System by system".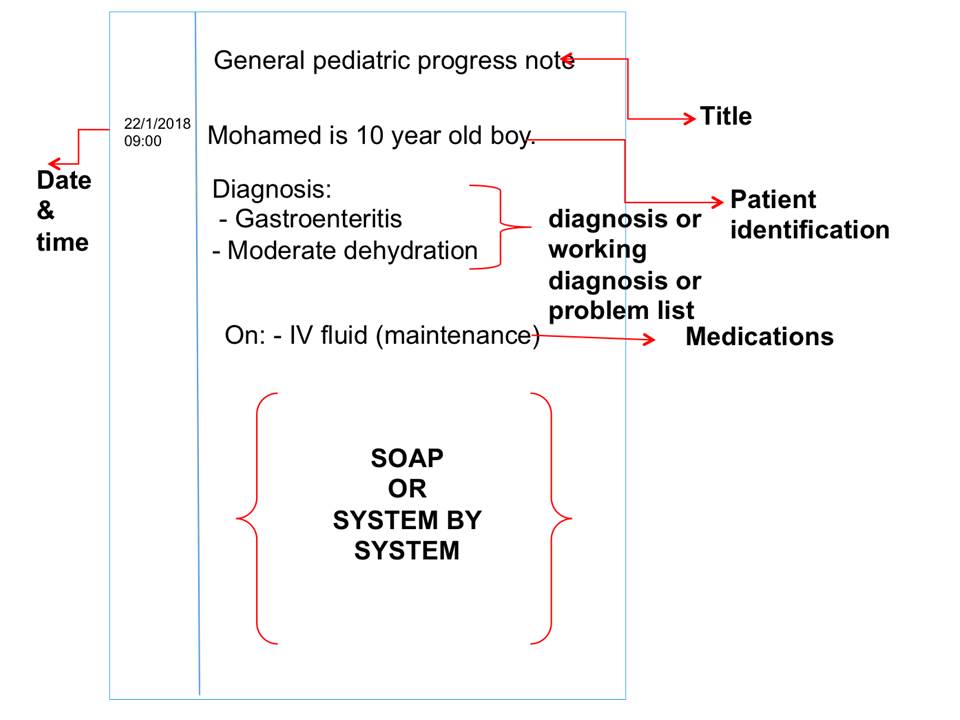 SOAP format:
Part

Discussion

S 

(subjective)

Record the information:

The  patient tells you about how they did overnight

From caregivers about the patient overnight.

From nurses about the patient overnight.

O (objective)

This is the focused on physical examination & investigation

General appearance

(ill, unwell, well, playful)

Vital signs

(temperature, heart rate, blood pressure, respiratory rate)+ daily weight+ oxygen saturation

and physical examination

(focus on local area + quick systemic examination)

Lab data

Imaging data

Other work up

Consultation replay "if available."

A(assessment)

Is the MOST important part.

It can be brief, but should include:

Working differential diagnosis

Established diagnosis

Severity  or the prognosis

The "status" of the problem (improved, worsened, or has developed additional problems.)

P (plan)

Include >> diagnostic (or monitoring) plans and therapeutic plans.

While writing the plan:

Identify your plans

Be specific

Avoid "to consider"

Use if/then statements instead.

For example (if the patient has temperature more than 38.5 start ceftriaxone IV)

Each problem should have a separate plan
** in case if you have multiple problems or working diagnosis in the patient what you need to write in the assessment & plan A/P?
In this condition:
You have to prioritize the diagnoses. " the most acute problems addressed first"

Use "bullet" and write each key working diagnoses and how the patient is responding.
For example:
A/P: Reem is 50 year old woman with:
Left lower lobe pneumonia likely pneumococcus with improved O2 sats on day 2 levofloxacin.

Uncontrolled  type 2 DM with improved glucose control, and resolving hypovolemic hyponatremia.
**Hint: Don't keep repeating the same amount of detailed explanations in the A/P that you gave on day 1.  This will leads to the 2-3 page progress note that no one like to write or read. No need to discuss resolved issues every day in progress note.
System by system format:
You can divide your progress note to a system in each one it will include subjective/ objective/ medication.
Respiratory system

Cardiovascular system (CVS)

Gastroenterology system (GIT)

Infectious (ID)

OTHERS
**there will be example later on.
A good progress note:
Focused

Targeted

Well organized

Specific

Updated daily

Has a plan

User friendly!
Good Luck
How to write proper Medical progress note?
By Dr.Dana Aljindan
"Pediatrician"